A charity since 1997, The CRUMBS Project was founded by the late Anne Gardner MBE and originally sprung from the need for those in long-stay care to have a structured programme of support to encourage their learning and professional development.


Charitable objective:
"The promotion of education and social inclusion of disadvantaged individuals, by providing learning and training designed to assist in progress towards better employment and a more independent life through vocational training".
From a dedicated professional training centre in Bournemouth, we provide training in catering, housekeeping and administration for adults with a range of disabilities, giving them the life skills that encourage them into employment and independent living.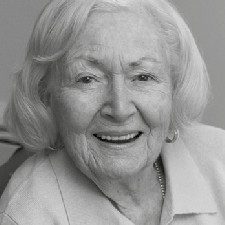 Anne Gardner MBE
The Crumbs Project founder
(1931-2017)
"At 17 our daughter Liz started to hear the voices which were to torment her for most of her adult life. There seemed little I could do: every which-way I turned I drew a blank.... and I began to get involved in talking: to others in the same position, to psychiatrists, to nutritionists... anyone who had something to contribute to a puzzle which made no sense.
Then the practical side of me clicked in and I became involved in projects to help those with enduring mental illness, in the days when long-term stay in a mental hospital was often normal and the future looked very dark.
CRUMBS sprung from the need for those in long-stay care to have a pattern to their day: a skill at their finger tips and something to talk about. Sadly Liz never became involved, through choice, but many others have now been through the skilled fingers of our dedicated staff team. Working as we did in those days, many badly damaged people came through the doors to our sheltered kitchen environment where so much recovery took place.
Two years after becoming a charity we expanded to include persons with learning disability and stabilised addiction problems and thus we evolved into the mixed disability workforce which is so successful today. Support from Grant-making Trusts enabled us to expand: the staff team and trainee numbers grew and the change to training for independence and employment became our aim.
Liz lost her fight with cancer just as Crumbs Café was opening. I like to think that she would have taken pleasure from just knowing how many have been helped in their struggle to just enjoy life in the Community, even though I was so singularly unable to do the same for her."
Anne Gardner MBE (1931-2017) – The CRUMBS Project founder
We have a great team including professional trainers, managers and trustees who help us to develop and deliver training and development programmes for disadvantaged adults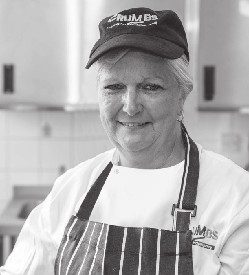 With a Catering sector background developed over 25 years, including roles as a Catering Manager within cafes and restaurants, Jane joined CRUMBS in 2016…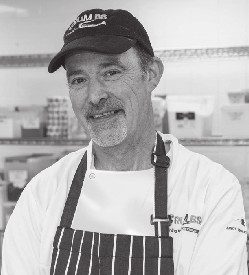 Dave started working at a young age recognising it would be a path to his independence, and spent over 30 years in the baking industry, before joining CRUMBS in 2018…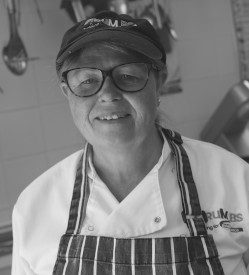 Having developed a passion for baking at a young age, Helen undertook a Baking & Confectionary college course after leaving School before working in retail…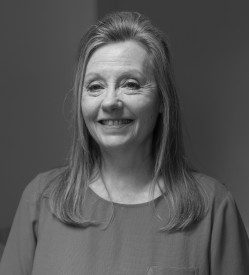 Janet spent 30 years in the Hospitality sector as a chef and owner of restaurants and hotels before retraining as a teacher to combine her 2 passions of food and helping people…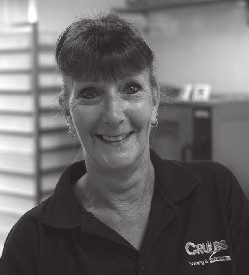 Starting work at the age of 15 within the catering and hospitality sector, Fiona moved onto private house cleaning and industrial cleaning in hospitals and schools…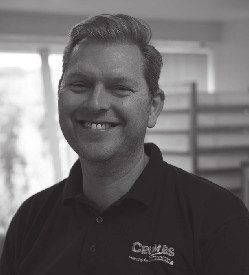 With professional qualifications including BTEC National Diploma in Hotel & Catering Management and BSC Hons in Food Quality…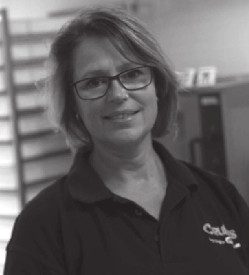 Before joining CRUMBS in 2005 Ursula spent 8 years as a Chef within the Royal Logistics Corp, providing catering support to the British Army and developing skills in field catering…
We have a skilled team of supporting staff who work in the CRUMBS kitchens and behind the scenes to help us to provide training and life skills that encourage disadvantaged adults into employment and independent living. Carol, Caroline, Martin and Sonny have all progressed through their own CRUMBS journeys as trainees to gain jobs directly with us and provide key support, guidance and encouragement to our current trainees.
Our Trustees govern and guide the charity, making sure all decisions put the needs of our trainees first. Our current Board of Trustees includes:
Professor Peter A Jones

MBE (Chair)
Peter has had a portfolio career, as a soldier, where he retired as a Lieutenant Colonel, an academic, where he held appointments as head of school at Bournemouth University…
With more than 30 years of experience in the IT sector, Mark's skills include supporting businesses by designing IT systems, specifying hardware and implementation of software…
Sarah has over 30 years of experience in working within the social housing sector, starting her career as a Housing Management Trainee for Test Valley Borough Council…
Douglas trained as a Chartered Accountant in Bournemouth before moving to Bristol to work for Coopers & Lybrand and Gateway Foodmarkets….
Steve by profession is a banker and with a career spanning over 40 years he latterly led teams that specialised in the leisure sector across the Southwest of England…
Passionate about the hospitality industry, Simon has a background as a general manager and is a senior academic at Bournemouth University…
A career change in the 1990's led Sarah away from finance and into hospitality. She retrained at Reading College, obtaining City & Guilds Professional Cookery and a Certificate in Teaching…
Jordan is a Product Owner and Strategic Analyst working on new product development and innovation in the software industry…
Chris is a management professional and a member of the Institute of Hospitality, who worked in the catering industry for over 30 years….
Heather is a UK registered nutritionist and a member of the Association for Nutrition. She is a Professor at Bournemouth University where her expertise and research are within the field of public health nutrition…